7PM Doors ✖ Hall ✖ $15-$45 ✖ 21+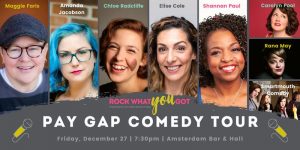 Pay Gap Comedy is back with a special holiday show! Laugh off the seasonal stress & oh by golly have a holly jolly Pay Raise this year.
After a successful debut show at the Parkway Theater in Minneapolis, the Pay Gap Comedy Tour is coming to St Paul for the "best time of the year!" Or more realistically, the most stressful time of year – and for some of us, the most melancholy time of year. Whatever feelings the holiday season brings to you, consider this raunchy 21+ comedy variety show your seasonal laugh therapy. Made by women, but FOR everyone.
Why do we call it the Pay Gap? Because women still only earn 80% of what men do, and most comedy lineups are still dominated by men – enough said! This tour is our way to clap back at the pay gap one show at a time.
Featuring:
Chloe Radcliffe – Named a TBS Comic To Watch at the New York Comedy Festival. She has been seen on Epix and was selected for NBC's 2019 Late Night Writers Workshop. In 2018, Chloe was selected for Standup NBC and was listed as one of Thrillist's 50 Best Undiscovered Comics.
Amanda Jacobson – Co-host of top true crime comedy podcast Wine & Crime.
Maggie Farris – Winner of the Minnesota Laugh off, the Funniest Clip of the Year, and the Silver Nail award at the Aspen Comedy Festival. Curve magazine named her one of the Funniest Lesbians in America. Recent winner of The Advocate Magazine's national search for the Next Funniest Queer Comedian.
Elise Cole – Opened for NPR's Ophira Eisenberg at the 10th Annual Twin Cities Jewish Humor Festival, and was a 2019 semifinalist in Rick Bronson's House of Comedy contest.
Shannan Paul – Radio Personality at myTalk 107.1 speaking on pop culture and diversity.
Carolyn Pool – Co-creator of the 2013 Ivey Award winning 2 Sugars Show, recipient of a 2008 Ivey Award (outstanding ensemble for Orson's Shadow in which she played Vivien Leigh), and in 2011 won "Best Actress" at the SoCal Film Festival for her work in the short film Rotations of the Earth.
Rana May – Has been featured locally in the City Pages, Star Tribune, Minnesota Daily, MPR. Was picked as one of five comics to watch in 2016 by Growler Magazine and was the Winner of the House of Comedy's Funniest Person with a Day Job Contest.
Smartmouth Comedy's Happy Hour – Female-driven improv troupe that delivers bold and funny shows by focusing on the versatile comedic talents of local women.
* Talent lineup is subject to change without notice. While we do our best to accommodate our performers' busy schedules, we acknowledge the possibility that scheduling issues may arise. Please check back for updates. Adults 21+ only. Valid I.D. required for entry.