8:00PM Doors ✖ Hall ✖ $20.00 ADV / $25.00 DOS ✖ 18+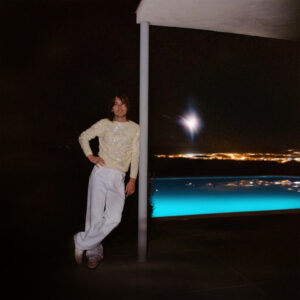 Lewis OfMan is somewhere between a Parisian sprite and a dandy, a musician and producer dancing to a beat of his own creation; stemming from his roots as a prodigal adolescent drummer. He comes alive on stage, with exciting basslines and rhythms punctuated by his electric skills on
various synths — an uplifting event to witness that can be felt in his crowd's exuberance.
His debut album Sonic Poems, produced by Tim Goldworthy (LCD Soundsystem , The Rapture..) was met with great reception and earned him fans globally, causing him to regularly sell out shows
both in his native France as well as North America in 2022, sharing the stage with his long term collaborators Sofie Royer and Cola Boyy. He has worked with brands such as Versace and Diptyque, and always lends his signature style of cool to artists and brands he produces for.
This year Lewis OfMan has toured and worked with Carly Rae Jepsen, and can be found hitting North America this spring, with a new single and his sophomore record to follow shortly.
Official Website: https://lewisofman.komi.io/
Official Facebook Page: https://www.facebook.com/ofmanlewis
Official Twitter: @lewisofman
Official Instagram: @lewisofman
Official YouTube Channel: https://www.youtube.com/@lewisofman9048
Official TikTok: https://www.tiktok.com/@lewisofman?lang=en