Due to the mercurial ways of mother nature (and the East Coast winter storm that grounded their drummer's flight), we regret to inform you that Retribution Gospel Choir will not be performing at tonight's show. (They're pretty bummed about it, too.)
But fret not! The show will still go on! Greycoats and Prissy Clerks are still on the bill. And in the place of RGC? Alan Sparhawk will be doing a rare solo set! As a result of the line-up change, we are reducing the ticket price from $10 to $7.
If this change in line-up has affected your decision to attend the concert, we are offering full refunds for those who no longer wish to attend and partial refunds at the door for those still planning on attending. For more information on refunds and tonight's show, please get in touch with Brenda via e-mail (brenda(at)amsterdambarandhall.com) or by phone (612-285-3112).
Alan Sparhawk SOLO SET w. Prissy Clerks, Greycoats. 11/27/13. Doors at 8PM. Show at 9PM. 21+. $7.
We appreciate your understanding and hope to see you this evening!
Holy cow. It's seems like just yesterday that we passed the Marriage Amendment and had a big ol' party with The Suburbs in our backyard. How has it already been 4 months?
In the meantime, The Suburbs have launched a kickstarter, funded a new album and got to business on their first album in 27 years (read all about it in an awesome interview with Chan at The Local Current blog). Tomorrow night – September 24th – they're playing a FREE show on our hall stage before they head to New York for a stitch.
A lot of you have been asking about the details, so I've rounded up the official details for you.
It's a free show. That means you don't need a ticket, but you'll need a valid ID to prove you're old enough to be in the bar after dark (or, really, to prove you're old enough to drink alcohol).
Doors are at 9PM. We will be closed for a private event from 5PM right up until the door time at 9, but you're welcome to grab a spot on our patio in the meantime!
And lastly, it is very important to us that you have a blast.
Check out this neat little piece on the Ericksons from Kare 11!
Boy, this week has been crazy! Right off the heels of Girls Got Rhythm, we launched into a very exciting, very joyous week with the legalizing of same-sex marriage in the state of Minnesota. If you weren't one of the 7,000-some people who made it down to the Ecolab plaza on Tuesday night (or even if you were here!), you can read about the event at numerous websites.
We're now accepting bands for the Black Sabbath Open Mic night on March 30th! Contact amsterdambooking@gmail.com for details!
WOOO HOO WOO HOO HOO!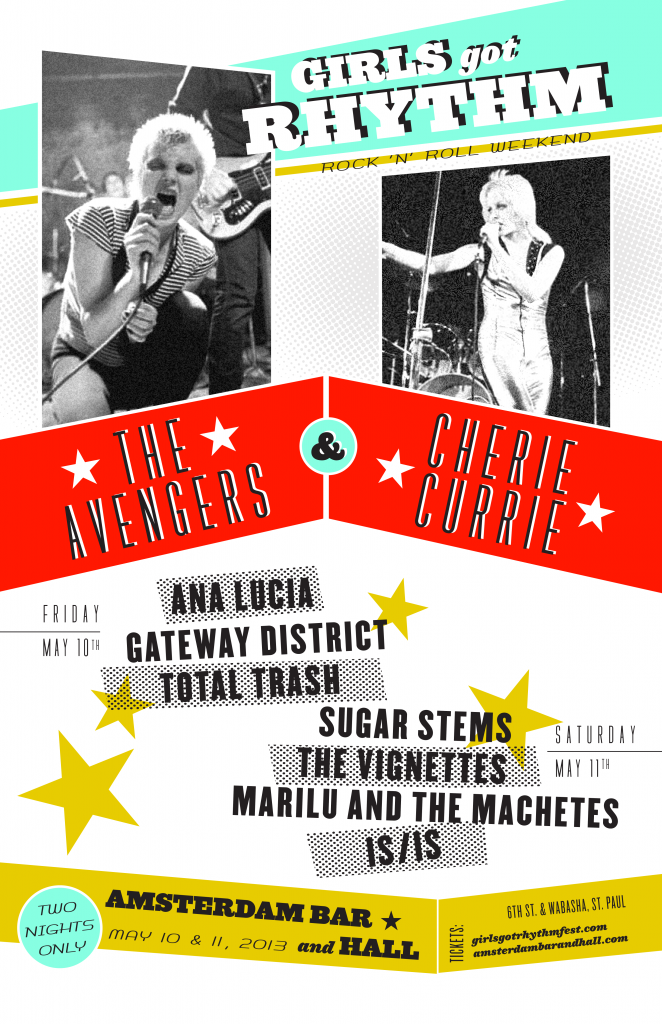 That's right! Girls Got Rhythm is back in 2013! May 10-11 2013!
Check out details about the performers over on our events page for Friday and Saturday, or if you're ready to buy tickets, head over to our TicketFly pages for Friday night, Saturday night or the weekend pass!