8pm ✖ Hall ✖ FREE ✖ 21+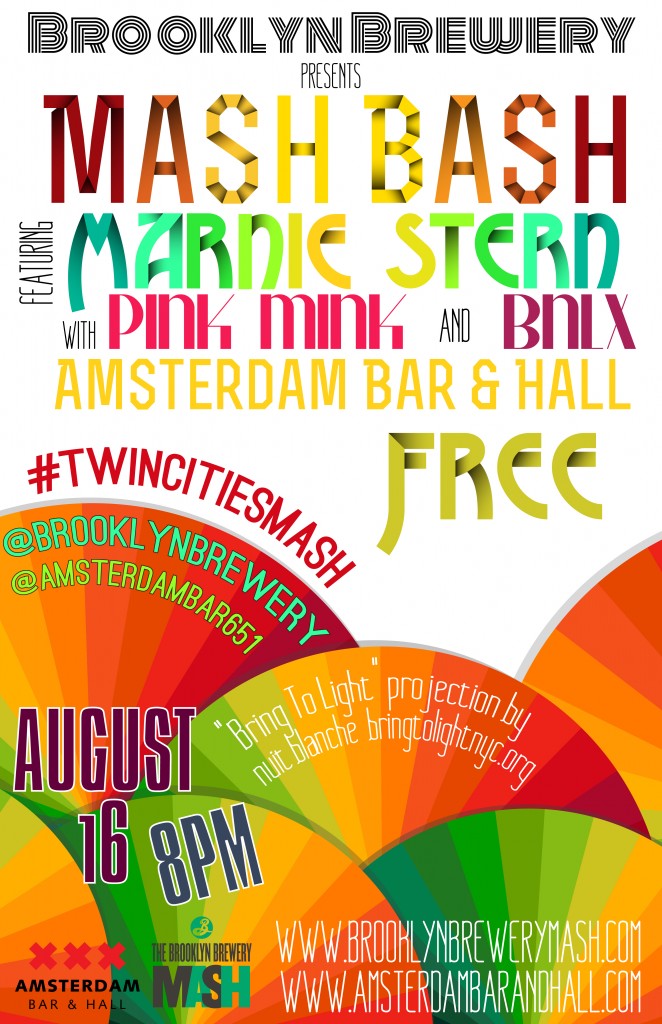 At the end of the day, The Mash is a festival. And what festival is complete without a soundtrack? Certainly not this one. That's why after a full week of feasting on good food, expanding our minds at panels and classes, and filling our bellies with delicious brews, we celebrate our last evening in town with a Bash – a  Mash Bash.
We're bringing everything we find exciting about the Brooklyn music and arts scene to Amsterdam Bar & Hall for one night in an explosion of sound and color. Brooklyn guitar virtuosa Marnie Stern joins us for her second Mash Bash, and will be accompanied by two local sensations: the riot grrls of Pink Mink and post-punk krautrock BNLX.
The show is free, so bring enough cash for some band merch & Brooklyn cans.
"NYC's Marnie Stern has made her name with virtuoso, finger-tapping guitar skills. Her first three albums came thick with dense, schizoid rock, but this fourth scales her usual crosscurrents back, revealing radiant, melody-driven fare." - The Guardian
"Glam-punk band Pink Mink formed as a collaboration between some of the cities' most talented musicians. With two female guitarists at its helm, Arzu Gokcen and Christy Hunt, the band has a unique sound laden with lyrics that pay homage to the group's hometown, the Twin Cities." - MN Original
"It should come as no surprise that [BNLX's] excellent full-length LP, self-titled but with a photo of Ackerson's Boston Terrier Wiggy on the sleeve, is the most melodic of all […] but with an ever-increasing Joy Division/New Order influence that creates a super-appealing sound, both accessible and experimental. But worry not: it still crushes heads where it needs to." – Le Toile Magazine